Home
»
Latin Mass
BISHOP PERSICO SUSPENDS ALL PUBLIC MASSES UNTIL FURTHER NOTICE.
Traditional Latin Mass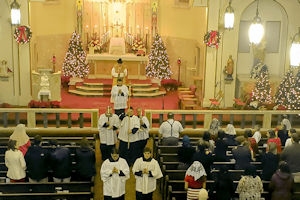 The Traditional Latin Mass is celebrated at 9:30 a.m. every Sunday at Saint Casimir's Catholic Church, 629 Hess Ave., Erie, PA 16503.
The Rosary is prayed prior to Mass beginning at 9:00 a.m.
All are welcome to come and join us in prayer. A High Mass is normally celebrated at least one Sunday a month. The Low Mass is celebrated on other Sundays.